Castlemartin soldier death: Shots 'dangerously close'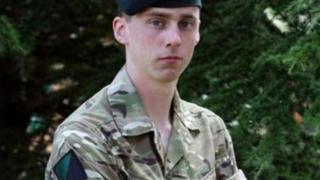 A soldier was fatally shot in the head moments after expressing concern rounds were becoming "dangerously close", a court martial has heard.
Ranger Michael Maguire, 21, was hit as he stood in a "safe" area during a live ammunition exercise at Castlemartin, Pembrokeshire, in May 2012.
Capt Jonathan Price, 32, denies manslaughter by gross negligence.
Lt Col Richard Bell, 45, and Warrant Officer Stuart Pankhurst, 40, both deny negligently performing a duty.
Ranger Maguire, from County Cork, Ireland, was in a field 0.6 miles (1km) away from the action zone when he was shot.
Nigel Lickley QC, prosecuting, told the trial at Bulford, Wiltshire, Capt Jonathan Price had organised the exercise with a "total disregard" for safety.
He said: "All three men played their part in causing this catastrophe in different ways.
"The common sense of the situation is you do not point guns at people, you do not design, permit or allow an activity that allows machine guns to fire directly in line with your men, men that you know are there, men that you might be able to see, if not the vehicles that are with them."
Recalling an account from one soldier, Mr Lickley said: "The soldier heard five rounds in around 10 seconds or so.
"Ranger Maguire said to him 'these rounds are getting dangerously close'. He then turned to Ranger Maguire and saw him get shot in the head."
He was later pronounced dead in hospital.
'Fortunate'
Mr Lickley told the trial Capt Price had failed to attend a recce of the range when preparing a range action safety plan, he placed targets too close together and he failed to "deconflict" the two exercises.
Mr Lickley said there was a "total disregard for the safety of his men" and with a public beach 3km (1.8 miles) away, "anyone on it was put at risk of being hit".
"It's fortunate there were not more casualties," he said.
The trial heard that Col Bell had failed to review or counter-sign the safety plan produced by Capt Price and failed to supervise or support him.
WO Pankhurst, who was supervising the exercise involving Ranger Maguire, failed to "express any caution or concern" despite having attended the recce and having knowledge of the extent of the adjacent shooting, he said.
The trial continues.