Fears over McDonald's drive-through impact on St Clears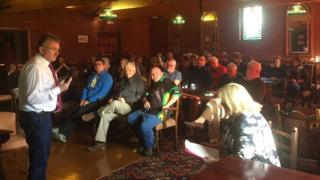 Plans for drive-through takeaways could be a "final bullet" for a Carmarthenshire town, campaigners have warned.
McDonald's and Costa Coffee want to open on a site on the A40 on the outskirts of St Clears.
But there are concerns the outlets could create litter, traffic jams and impact on businesses in the town.
McDonald's said it would ensure the drive-through was "sensitive to the area". Costa has been asked to comment.
'Dying on its feet'
On Tuesday night about 60 people attended a public meeting to voice their concerns about the outlets, which would be built next to the St Clears roundabout on the A40.
The road is a busy route used by holidaymakers on their way to and from Pembrokeshire.
Resident Jane Jones told the meeting the A40 was already "very crowded and busy" and the development "could create a huge traffic jam".
While David Petersen, who lives locally, said St Clears "was dying on its feet...and this could be the final bullet".
A local GP also raised concerns about the potential impact on public health.
In a statement McDonalds said: "As always, we will ensure that our development is sensitive to the local area and will undertake regular litter picks in the surrounding area.
"If approved, the new restaurant would bring investment to the local community as well as creating 65 new full and part-time jobs for local people."
The application would need to be approved by Carmarthenshire Council before it could go ahead.