Faye Jenkins cleared of Lion's Den 'headbutt'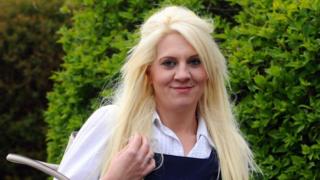 A woman has been cleared of assaulting another mother at a children's soft play centre after they got into row about being overweight.
Kelsie Ormond, 24, suffered a broken nose after allegedly being headbutted by Faye Jenkins, 28, in the Lion's Den in Haverfordwest, Pembrokeshire.
But Ms Jenkins, from Haverfordwest, told magistrates in the town that she had acted in self defence on 22 July.
She was found not guilty of causing actual bodily harm.
Prosecutor Catherine Miles said the argument started when Ms Jenkins followed Ms Ormond's seven-year-old niece into toilets to tell her off.
The girl had fallen out with Ms Jenkins's seven-year-old daughter, who was celebrating her birthday, the solicitor added.
Ms Ormond told magistrates: "My sister went over to [Ms Jenkins] to speak to her. There was a bit of an argument going on between them regarding their children.
"I said: 'Kids will be kids, girls that age are hard work'. I told my sister to just leave it."
"When we went to walk off Jenkins made a comment about my sister's weight, saying something like: 'It's not hard for her to get up in my face - look at the size of her'.
"I turned around to say her comments were not very nice and she should take a look at herself.
"Jenkins then stood up and headbutted me in the face."
Ms Ormond said she had a cut to the bridge of her nose, and needed surgery because it had "collapsed", leaving her unable to breathe through her left nostril.
Ms Jenkins told police she had acted in "self defence".
She said: "I thought she was going to hit me. They were both in my face and arguing at me. One said: 'You called her fat. You're one to talk, you're as fat as anything.'
"The one came up to me. So I pushed her back with my forehead."