Rare green heron spotted in Llanmill, Pembrokeshire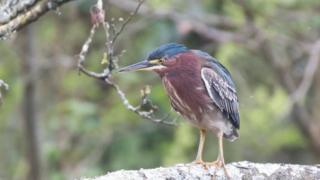 A rare green heron, native to north and central America, has been spotted in Wales for what is believed to be only the second time.
The bird turned up in the garden of Carmarthen West and South Pembrokeshire MP Simon Hart, in Llanmill, near Narberth, Pembrokeshire.
Posting an image on Twitter, he wrote: "Completely amazed to welcome a green heron to west Wales."
Naturalist Iolo Williams said the sighting was "exceptionally rare".
The birds are about 40cm (16in) tall - much smaller than grey herons more commonly seen in the UK - and are a brown and green colour.
They normally live on the other side of the Atlantic and are widespread across their native countries of the United States and southern Canada.
Wildlife TV presenter Mr Williams said of the sighting: "As far as I'm aware, I think there's only ever been two recorded in Wales.
"I think there was one a couple of years ago in Anglesey and now this one has turned up in Llanmill down in Pembrokeshire, so it's no wonder it has got bird watchers in a flap."
He said the green heron was likely to have ended up in Wales after being blown off course by recent westerly winds, adding: "Basically, it's got lost.
"It's a lovely bird and it's well worth going to see. It's about 40cm tall, usually hunched up.
"It has got its neck back in its body usually and skulks around, often amongst vegetation and it's a lovely mixture of greens and browns.
Mr Williams said it was one of the few birds known to use tools.
"It's been recorded as using bread - it will carry bits of bread that people throw on the floor, dip it in the water to attract fish and then catch the fish.
"And then it will move on a little bit and put the bread back in the water, so they are fascinating little birds."