Protest over Withybush hospital downgrade plan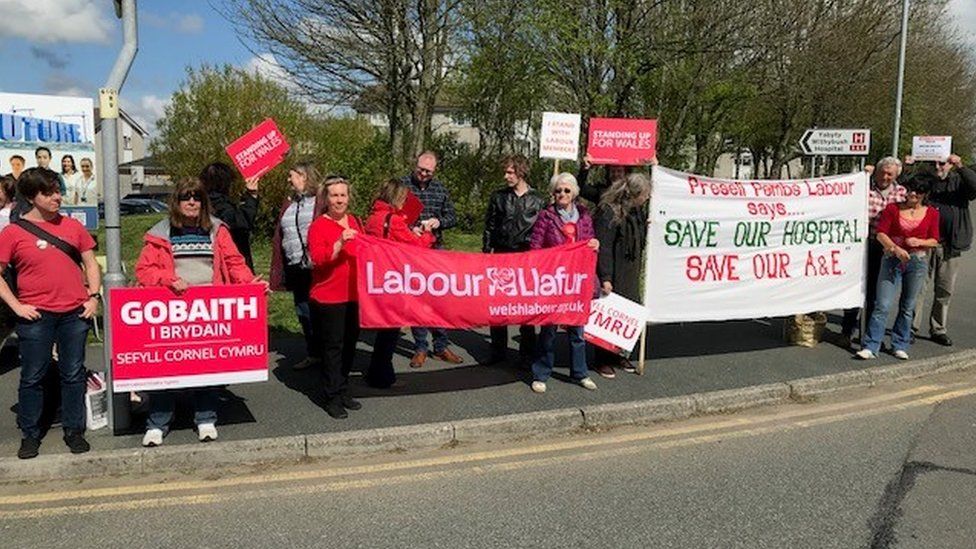 People opposed to plans to downgrade Pembrokeshire's main hospital have staged a protest at the grounds.
All would involve changing Withybush Hospital in Haverfordwest from a general hospital to a community one, losing its A&E unit.
More than 18,000 people have signed a petition opposing the decision to downgrade the hospital.
Preseli Pembrokeshire Labour Party group organised the protest on Saturday which comes just over a week after the plans were announced.
A spokesman for the group said: "Any such proposal is strongly opposed by the Constituency Labour Party and we will be campaigning against any such moves by Hywel Dda to remove or downgrade current services provided by the hospital and provide them outside of Pembrokeshire."
Daniel Metcalf, who attended the protest, estimated there were 50 people at the height of the action. He said: "There were many more local residents passing by and getting involved, talking to our members about their concerns."
Under the proposals, a new district general hospital would be built on the border between Carmarthenshire and Pembrokeshire providing A&E services, while in some of the options Carmarthen's Glangwili hospital would also lose services, including A&E.
Hywel Dda's chief executive Steve Moore has said the trust, with Wales biggest budget deficit of around £69m, does not have the option of doing nothing, which they had considered.
A public consultation on the proposed options is to run for 12 weeks.