'Depraved' father's life sentence for raping daughters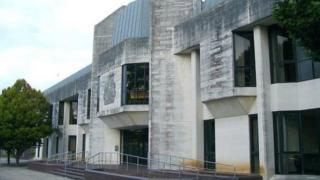 A father who repeatedly raped his own children "plunged new depths of depravity", a judge has said,
The 57-year-old from west Wales was handed a life sentence on Friday and told he would serve a minimum of 12 years in prison.
The man, who cannot be named, pleaded guilty to seriously sexually abusing his young daughters.
Swansea Crown Court head the two victims were both under 13 when the abuse happened.
The offences he admitted took place on two separate occasions.
The court heard that the defendant imposed a regime at home that was "profoundly abusive".
It was said that the house had padlocks on the doors and the curtains were always drawn.
The prosecution said one child was repeatedly raped and "became a sexual slave" to her parents.
The court heard police had also seized photographic evidence of the abuse against that victim.
The judge told the defendant one of the victims "was not locked in a cellar, but your conduct was not far short of that".
He added: "Her life can truly be said to be ruined."
Victim impact statements read out in court said one of the children was completely isolated by her parents as she was growing up, and that she was denied a childhood.
The other victim described how what happened to her filled her with "anger, guilt and confusion", feelings which they said had been "magnified because the abuse was carried out by the person [they] thought [they] could trust more than anyone".
'Depravity'
It also emerged that the second victim did not attend school at the time of the abuse, and police found home schooling books at the family home.
The man's 27-year-old wife was also found guilty by a jury of seriously sexually abusing one of the children.
She will be sentenced at a later date.
Judge Geraint Walters told the defendant: "Part of a judge's daily diet in this court is dealing with cases of child sexual abuse, but there are some cases that stand out as plunging to new depths of depravity.
"I have to tell you, your case is one such case."
'Find courage'
Speaking after sentencing, Dyfed-Powys Police Det Insp Phil Rowe said the investigation had been "protracted and challenging".
"I am pleased with the sentence handed down today and that the offender is no longer able to cause harm to the young victims or anyone else," he added.
"I hope anyone else who has experienced similar abuse at any stage of their life can find courage from this case to see that all reports will be taken seriously by Dyfed-Powys Police and fully investigated."