Swansea rugby player Max Easey killed himself after injury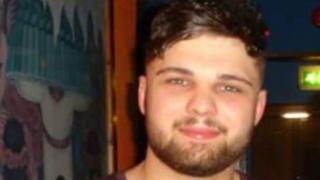 A rugby player from Swansea took his own life after an injury ended his career with his team, an inquest has heard.
Max Easey, 21, disappeared on 12 February. His body was found by police by officers in Hendy, Carmarthenshire, later that night.
The inquest in Llanelli heard he had depression that began when he injured his leg playing rugby.
Carmarthenshire Coroner Mark Layton concluded his death was suicide.
The former pupil of Ysgol y Strade and Ysgol Gyfun Gwyr had signed a semi-professional contract with Swansea RFC but moved to Hendy where he joined for Hendy RFC after becoming injured.
He could be a "friendly, social animal" at times, but at others could refuse to get out of bed for days, the inquest was told.
He was on medication for depression, and toxicology tests found diazepam and traces of cannabis in his system.
Speaking after the inquest his father Nick Easey said: "The last three months have been a living nightmare.
"It was a normal Monday evening and we replay the moment of the 12th of February over and over again in our brains.
"It's going to live with us for the rest of our lives."
He said he and his family had no idea how depressed Max had been, and called for GPs to be allowed to make relatives aware when someone was diagnosed with severe depression.
"This isn't something that can be changed on a whim," he said.
"I don't know the answer as to how it will work, but if the assembly government can look into a way to create a workaround that will enable GPs to signpost and highlight mental illness to next-of-kin and family members, then it's a step forward."
The General Medical Council (GMC) has issued guidance to GPs about patient confidentiality.
They say a patient's personal information should not be disclosed to a third party without their explicit consent.
However, they may be able to if doing so is of overall benefit to a patient lacking the capacity to consent, required by law, ordered by a court, or justifiable in the public interest.