Baby 'miraculously' survived Trebanos fatal crash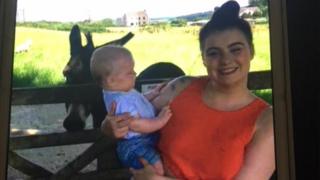 A baby boy "miraculously" survived a car crash that killed his mother and her boyfriend, an inquest has heard.
Naomi Carter, 18 and Jason Thomas, 23, died instantly as their car smashed at speed into an electricity pole in Trebanos, Neath Port Talbot.
But 11-month-old Brogan Carter was pulled from the wreckage with just bruises after the crash on 4 November.
Swansea coroner Colin Phillips ruled Miss Carter and Mr Thomas died due to a road traffic collision.
He said: "The only blessing is that the baby Brogan miraculously survived such a horrific incident."
Swansea Coroner's Court heard Mr Thomas lost control of the borrowed Peugeot 206 after it hit a bus stop kerb and careered across Swansea Road at about 03:15 GMT.
The inquest heard how a couple who lived nearby, were woken by a loud bang and felt the floor shake.
They said the scene was "horrific" and they had to use bolt cutters to free the baby, who was strapped in the back in a car seat.
"The couple in the car were not moving and the baby was crying in the back of the vehicle," said investigating officer PC Alun Efstathiou.
"They removed the headrest so that the baby could be removed from the car. They then cuddled and nurtured the baby as emergency services were dealing with it."
A toxicology test showed cannabis, alcohol and anti-depressants in Mr Thomas's system, but Mr Phillips said it could not be determined if they contributed to the crash.
The 23-year-old was also banned from driving and was not insured to drive the car, which he had borrowed from a friend in Pontardawe.
Police collision investigator PC Kyle Smith said in his opinion the Peugeot was travelling "well in excess" of the 20mph speed limit.
Mr Phillips added: "It is apparent there was a certain amount of driver error involved."
Brogan, now 16 months old, is being cared for by his father and his family, as well as Miss Carter's mother.