Rhoscrowther wind farm plans turned down again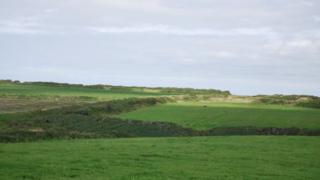 Plans to build five 100-metre tall wind turbines near Valero oil refinery in Pembrokeshire have been refused for a third time.
The application by Rhoscrowther Wind Farm Ltd was originally turned down by Pembrokeshire council three years ago - and then failed again at appeal.
But a High Court judge later ordered the proposal should be re-heard with a different planning inspector.
The new inspector has recommended the latest appeal should be dismissed.
Kay Sheffield recommended it be refused due to the visual impact the wind farm would have on an area close to Pembrokeshire Coast National Park.
Her report concluded: "On balance I consider that the harm which would be caused by the development clearly outweighs the benefits it would bring."
The recommendation for refusal has been accepted by Welsh ministers who have the final say on Developments of National Significance - of which the wind farm is one.
Rhoscrowther Wind Farm Ltd had previously said it believed it was the perfect location for a wind farm, within the Milford Haven Enterprise Zone, and in an area already dedicated to the energy sector.
The firm has been asked to comment on the latest decision.