Stena plans three-month closure of Fishguard ferry terminal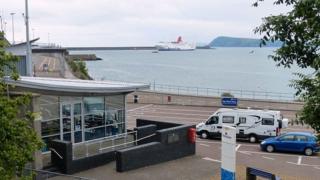 Fishguard's ferry terminal could close for up to three months according to the operator, Stena Line.
The temporary closure would allow for the replacement of the mechanised bridge that links the ferries to the dock in a £5m project.
It is understood that the most likely period is from February next year.
Stena Line said it was "committed to examining the possibilities of investing in key elements of the port infrastructure".
The company is looking at replacing the current Linkspan provision, the key ship-to-shore connection that allows vehicles to board and disembark at different tide heights.
Stena has lodged an initial outline planning application to Pembrokeshire County Council.
Its statement says: "It is expected that the port will close for approximately three months. However this is yet to be confirmed."
The closure could include the busy Easter holiday period for the route, which runs between Fishguard and Rosslare in the Republic of Ireland.
Companies are tendering for the contracts for the work.
Stena says the bids are being being scrutinised and evaluated against criteria including "cost and time to install".