Scolton Manor walled garden in Pembrokeshire restored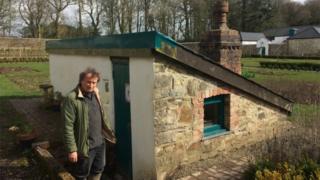 A walled garden in Pembrokeshire is being restored to how it might have looked in its Victorian heyday.
Work began in 2013 to rebuild the walls and buildings of the old garden at Scolton Manor, a country house museum owned by the county council.
Now horticulturalist Simon Richards, a walled garden specialist, has been given the task of replanting the one-acre space near Spittal.
But he needs volunteers to help him.
Mr Richards said it is a job which would have traditionally been done by a team of four or five employed gardeners.
"The purpose of walled gardens was to be able to produce food and cut flowers for a large household, including the servants," he said.
"The walls were generally high enough to keep the worst of the winds out, and to be able to grow things against them, so they were often 10, 11, 12 feet high."
As well as having their own micro-climate, walled gardens also offered protection against animals such as deer and rabbits.
The plan at Scolton Manor is to grow heritage vegetables as well as fruit.
Around the walls the team has already planted 60 varieties of espalier apple trees.
Mr Richards is also hoping that Scolton Manor will be able to grow a Welsh crop of fresh pineapples in the restored pineapple house - a rare feature in any garden.
It is a specially designed outhouse - with large glass windows on the south side - which is half buried underground to provide extra heat.
"In the 1800s, pineapples were seen as pinnacles of horticultural growing, because they needed 18 months before they'd actually fruit, and they would need a constant temperature of about 18 degrees, and this is before fancy boilers.
"So we have a little fire with flues, where the warm air circulates underneath the pineapples, and fresh animal manures were packed in around the terracotta pots, and you'd bury it with a layer of oak chips to keep that heat in place, so an awful lot of work went into producing pineapples."
In another quadrant of the garden, Mr Richards also plans to create a labyrinth using 10,000 sunflowers.
He has organised a specialist walled garden plant fair on Sunday where experts will be on hand to offer gardening advice.
He hopes to drum up interest in the garden and recruit some more volunteers to help him bring this Victorian garden back to its former glory.
You can find out more about the garden on BBC Radio Wales' Country Focus programme at 07:03 on Sunday.