Susan Evans inquest: Medical notes 'warned of suicide risk'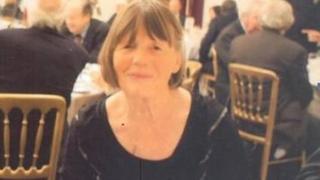 A woman whose hospital notes recorded she had "recently overdosed" was found hanging in a ward bathroom, an inquest has heard.
Susan Evans, 75, was found dead at Withybush General Hospital in Haverfordwest in 2014.
Mrs Evans had first been a patient at the hospital's mental health centre before being transferred on to a cardiac ward.
A nurse at her inquest said she was not aware Mrs Evans was a suicide risk.
During the second of a three-day hearing, the coroner heard Mrs Evans' hospital notes said she was "extremely low" and suffered from depression.
On 17 November nurses noticed Mrs Evans was missing from her bed at 04:45 before realising she had locked herself in the ward bathroom.
However, the agency nurse responsible for Mrs Evans on the night shift, Janet Sicath, said she was not made aware Mrs Evans had tried to kill herself in the past.
Gabriel Farmer, representing Mrs Evans' family, said that handover notes stated the deceased had suffered a "recent overdose".
Mr Farmer asked Ms Sicath: "You didn't think this was a suicide attempt?"
The witness replied: "I don't know, we don't usually get all the details from nurses in a handover."
The inquest at Milford Haven Town Hall continues.