Bobsleigh champ Malcolm "Gomer" Lloyd remembered with award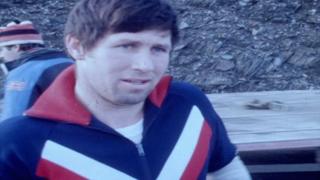 A trophy will be awarded in honour of a late British bobsleigh champion who had success in the 1970s and 1980s.
Soldier Malcolm "Gomer" Lloyd, from Penllergaer, Swansea, took part in four Winter Olympic games for Great Britain and coached seven other nations.
He was coach of the South Korean team when he died suddenly in January 2016.
The award will recognise soldiers within Mr Lloyd's old regiment - the Queen's Dragoon Guards - who display the "most sporting achievement".
Lloyd's former army colleague and bobsled teammate Maj Howard Smith, from Bargoed, Caerphilly, helped organise the trophy.
"When he died we were all so taken aback by it we decided we didn't want him to disappear off the radar," he said.
"So all of his mates clubbed together and we bought a beautiful silver trophy dedicated to him and his memory."
Maj Smith said silver medals would be awarded every year to soldiers in the regiment "deemed by the commanding officer" to be "worthy of his medal".
"He was nine times British champion - both as a pusher and as a driver - and just generally all-round brilliant guy," he added.
Lloyd died aged 68 when he suddenly fell ill on a cruise. Tests later showed he had had cancer.
The award will be presented on Monday at Cardiff Castle. Lloyd's daughter is travelling from the United States to present a silver medal to the first recipient of the award.