Swansea Kingsway: £12m redevelopment of road begins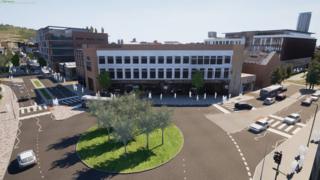 Work has begun on transforming one of Swansea's main city centre routes.
Development of the Kingsway will cost £12m and includes cycle tracks, wider pavements and a new park.
The Kingsway Infrastructure Project is aimed at kick-starting the development of a new digital district and creating new jobs.
The layout of the thoroughfare has been criticised in recent years following two deaths and a number of injuries.
One of the main changes will be re-opening the route to two-way traffic.
Ten years ago a one-way system was introduced meaning only cars heading south west could use the Kingsway.
Two lanes were used by the FTR Metro system - the bendy buses - but this was stopped following the deaths of Daniel Foss in 2013 and Sgt Louise Lucas in 2015.
During the inquest into the death of Sgt Lucas, the coroner described the layout of the Kingsway as "confusing and counter-intuitive".
The Kingsway was developed after the area was bombed in WWII and has seen business growth and commercial development since then.
The current plans to develop the area were criticised by the leader of the opposition at Swansea Council Chris Holley who said the idea was "fraught with problems".
Council leader Rob Stewart said: "As part of the redevelopment of our city we will be simplifying the road network, opening up routes to shorten journey times and making it easier for people to get to where they need to go."
Some work has already been carried out, including the closure of the metro bus lanes and the construction of a new roundabout where the Kingsway meets West Way.
Work on the pedestrianised areas is due to be completed in October.