Capel Hendre car crash cuts broadband for 250 people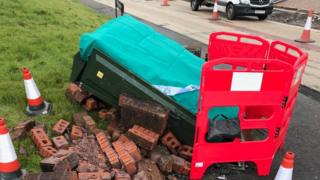 A car crash has badly damaged a broadband exchange box, cutting off supply for about 250 people.
It happened at the junction of Saron Road and Hendre Road in Capel Hendre, Carmarthenshire, at 00:15 GMT Friday.
Openreach said the severity of the damage meant the cabinet had to be replaced, so service would not be restored until the evening of 19 March.
Dyfed-Powys Police said a silver Ford Fiesta and grey Audi A4 were involved in the crash, but no-one was injured.