Dog rescued from ledge 50ft above Swansea quarry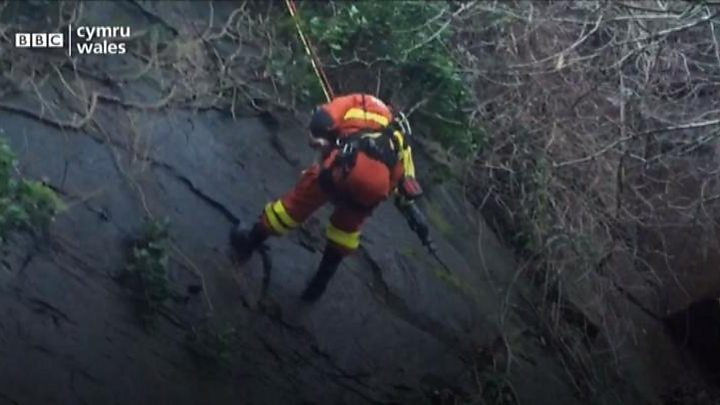 A dog has been reunited with its owners after being rescued from a ledge 50ft above a quarry.
Basil the collie cross was brought to safety at Rosehill Quarry near Townhill in Swansea, shortly after the 4.4 magnitude earthquake had struck nearby.
The RSPCA called Mid and West Wales Fire and Rescue Service to help as its staff could not reach Basil.
The dog's microchip meant he was reunited with his owners Colin and Margaret Cribb shortly afterwards.
Other dog rescues you might like:
Lifeboat rescues labrador at sea
Mrs Cribb said: "As time wore on we were so worried that we would not get him home. We are just so grateful and delighted that there was a happy outcome."
Basil's barks were heard by a passing walker who called the RSPCA.
RSPCA inspector Gemma Cooper said: "I was standing with the person who had called us just assessing the situation and we felt the ground move.
"We looked at each other said 'what was that?' We then saw from social media that it had been an earthquake. Luckily it hadn't spooked the dog or caused him to fall from the ledge he had been standing on.
"It was a very difficult rescue. A fire officer abseiled down the quarry, cutting down trees and greenery as he went.
"The dog was then attached to the officer's harness and they both continued to abseil to the bottom. The dog was uninjured but very relieved to be down."