Carmarthen care home residents wrap scarf around their home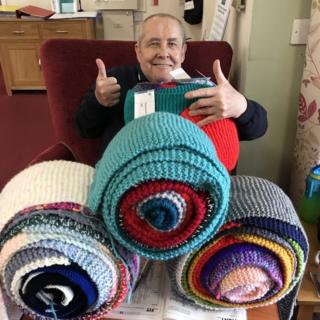 Residents at a care home in Carmarthen have been knitting a giant scarf - long enough to wrap around their home.
They are knitting the scarf to raise money for a mobile sensory unit that will be used by residents with dementia.
The scarf is hoped to wrap around the Plas-y-Dderwen bungalow, which measures 363m (1,190ft).
Once finished, it will be made into blankets to give to residents and charities.
Plas-y-Dderwen activity co-ordinator said Janet Williams: "It was an activity to get the residents talking really.
"We've learnt so much about our residents doing this; we learnt that one resident used to write a column for the Dairy Farmer, and one man, whose daughter also joins in, used to knit string vests for the Army."
She added: "One lady, who normally stays in her room, has joined in with the group, and now comes to knit even when the group isn't on."
Once the scarf is finished, the housekeeper will sew pieces together to make blankets, with some going to the residents and other blankets being donated to Save the Children and Oxfam.