200 heart screenings funded by family of Dean Mason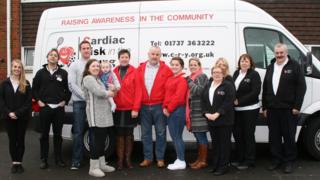 About 200 people will undergo heart screenings over the weekend thanks to fundraising efforts in memory of a 26-year-old from Carmarthenshire.
The family of Dean Mason, who died from an undiagnosed heart condition in 2010, has raised enough for 1,040 people to be screened through a memorial fund.
It will be the 10th time Cardiac Risk in the Young (CRY) will have performed the tests in Whitland.
Heart conditions in under-35s are thought to cause 12 deaths per week.
The Dean Mason Memorial Fund has raised enough to bring in a screening unit for the weekend including a van, three electrocardiogram (ECG) machines - which trace the rhythm of the heart - and an echocardiogram machine, which is similar to an ultrasound machine.
An ECG test is non-invasive and can identify most abnormalities in the heart which cause premature deaths in young people.
In last year's event, 16-year-old Frank Aretz from Tenby, Pembrokeshire, was diagnosed with a condition known as hypertrophic cardiomyopathy (HCM), which could have had fatal consequences if not detected early.
Daniel Mason, Dean's brother, said: "We all want to thank the entire local community for all their support and fundraising efforts in memory of Dean.
"We are proud to continue making an impact on lives of young people across Wales and playing a part in helping to prevent other families from experiencing the same devastating grief as we have."
The tests are run by Cardiac Risk in the Young and they check 27,000 people under 35 in the UK each year.
But chief executive Dr Steven Cox says it should be mandatory for all young people.
"The death of a young person is devastating for any family," he said.
"It is therefore essential that anyone with a potentially fatal heart condition knows about it.
"Without this knowledge and, if necessary, appropriate treatment, they could be putting their lives at risk as in 80% of cases there are no signs or symptoms."