Betty Guy murder trial: Accused 'repeatedly changed stories'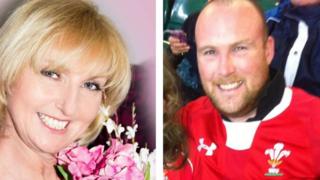 It may never be known why an 84-year-old woman's daughter and grandson decided to kill her, a jury has heard.
Penelope John and Barry Rogers are accused of murdering Betty Guy at her home in Pembrokeshire in 2011.
Prosecutor Paul Lewis said he was not interested in verdicts of manslaughter and "our case is that they are both guilty of murder".
But defence barrister Christopher Henley said there was no motive or medical evidence.
Swansea Crown Court was told that Ms John summoned Mr Rogers to Ms Guy's home in Johnston during the early hours of 7 November.
They were said to have given her a cocktail of drugs and alcohol before smothering her with a pillow.
Ms John from St Dogmaels, said she would never have agreed to end her mother's life while Mr Rogers from Fishguard said he had boasted to people that he killed his grandmother because he "craved attention".
Making his closing address, Mr Lewis said the pair had dealt with the police "like politicians, answering questions they wished they had been asked and not the ones they were".
He added they had repeatedly changed their stories.
He said Ms John "summoned her son from 160 miles away" to kill Ms Guy, and "when he got to Pembrokeshire he smothered her and indeed killed her."
Mr Henley said the "fundamental and inescapable problem" in the case was that there might not have been a crime at all.
"There is no medical evidence about the cause of death."
He said the prosecution could not offer a motive for murder as Mr Rogers had only inherited a washing machine and a tumble dryer.
He added Ms Guy had been an elderly lady in ill health and was "ready to go".
The case continues.