Pets found in Briton Ferry home strewn with faeces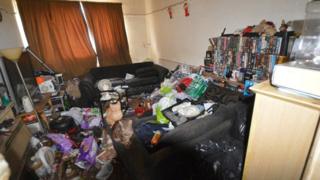 A couple have been banned from keeping animals for a decade after their pets were found in a home littered with bottles of urine and boxes of faeces.
Robert Roy Rickman, 45, and Ceri Ann Rickman, 32, of Briton Ferry, Neath Port Talbot, admitted animal neglect charges involving 15 cats and two dogs.
An RSPCA inspector said he was "shell-shocked" and "heartbroken" when he found the pets.
Swansea Magistrates' Court heard conditions were "squalid".
Neill Manley, an inspector for the charity who went to the "filthy" property in June last year, found the cats and two dogs - a brindle lurcher and a collie-cross - in an "horrendous" condition.
Human and animal faeces were strewn across the property, urine was kept in plastic bottles, mess was sprawled across rooms and there was an overpowering smell.
Mr Manley said: "This was a thoroughly grim and hugely challenging case, in some of the worst conditions I have witnessed in my entire life.
"I arrived at the property on one of the hottest days of the year, and was shell-shocked at the squalid conditions in which animals were living.
"The property was totally infested with fleas, and a number of the cats had developed an allergic reaction which was not treated.
"The condition of the animals was absolutely heartbreaking, and it beggars all belief that anyone deemed it acceptable to keep animals in such filthy, squalid surroundings."
The defendants admitted causing unnecessary suffering to 15 domestic cats, and failing to take reasonable steps to ensure the needs of two dogs were met.
They were given a ten-year ban on keeping all animals and a community order. They were also told to pay costs of £300 each, in addition to a victim surcharge of £85.
The RSPCA said all the pets had been taken into its care to be rehomed.