Ystalyfera landslip compensation for 'permanently displaced'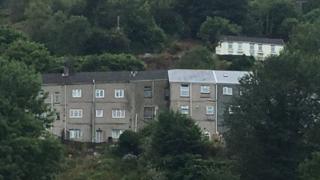 People forced to leave their homes after a landslip will only get compensation if they can never return.
Residents in 10 homes on Cyfyng Road, Ystalyfera, were evacuated in August and surveys have identified a "high risk" area above the houses in Pantteg.
At a meeting on Monday, Neath Port Talbot council's Nicola Pearce said compensation payments depended on the outcome of an ongoing appeal, but would be for those permanently displaced.
Some money has already been paid out.
The meeting, held at Ysgol Gyfun Ystalyfera, was to bring residents up to date on how plans were progressing.
Ms Pearce, head of public protection, told the crowd of about 100 people that some people had already been compensated for any out-of-pocket expenses.
Before the meeting, council leader Rob Jones said he hoped to avoid further evacuations, despite an ongoing risk of landslides, adding: "Every property will be inspected on a priority scale."
Mr Jones told BBC Wales there was an "immediate risk to life" on Cyfyng Road and the council needed to take action.
Many of the residents have been resettled into temporary accommodation, but three appealed against their evictions and a tribunal is due to be heard in March.
Mr Jones said because of the survey results at Pantteg, the council would carry out further inspection work, hoping to avoid further evacuations because "we are limited by the powers we have in relation to what we can actually do".
"We will go in and look at any movement in houses, any cracks," he said, adding that the council had "the right to enter the properties".