Three deny charges over Castlemartin soldier death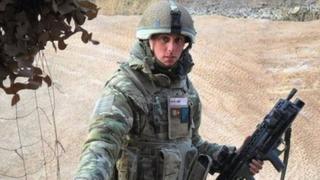 Two Army officers and a sergeant have denied charges involving the death of a soldier in a training exercise in Pembrokeshire in 2012.
Ranger Michael Maguire, of the 1st Battalion, Royal Irish Regiment, was struck in the head by a stray bullet at Castlemartin Training Area.
Cpt Jonathan Price denied manslaughter and Col Richard Bell and Colour Sgt Stuart Pankhurst denied negligence.
A court martial will be held in Bulford, Wiltshire on 14 May.
Ranger Maguire, who was 21 when he died, was not wearing a helmet but was in a "safe", non-combat area at Castlemartin, around one kilometre (0.6 miles) from the shooting.
Soldiers were firing live rounds at both static and pop-up targets during the exercise.
The Castlemartin Army Training Area was established in 1939 and covers 5,900 acres (2,390 hectares) in south Pembrokeshire.