Freshwater East protected trees illegally felled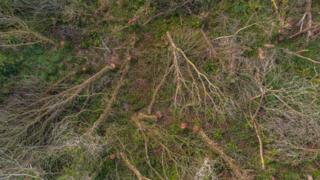 An investigation has begun after dozens of protected trees were illegally felled.
Pembrokeshire Coast National Park Authority said species of ash, sycamore and hawthorn were found abandoned in Freshwater East local nature reserve.
They were part of a woodland protected by a Tree Preservation Order (TPO).
A park authority spokeswoman said it was "the worst breach I have ever encountered".
Jane Gibson, park authority director of park direction and planning, said: "We take this type of breach very seriously and local police have already made door to door enquiries.
"Not only has someone felled trees that were protected, they have carried out these unauthorised works on land that didn't belong to them."
Anyone found guilty of destroying a tree protected by a TPO can be fined as much as £20,000 per tree, she added.