Betty Guy murder trial: Mum 'was my life', says accused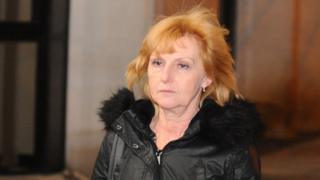 A woman charged with murdering her mother has said she would never agree to end the 84-year-old's life.
Penelope John is jointly accused with her son, Barry Rogers, of giving Betty Guy a cocktail of drugs and alcohol before smothering her at her home in Pembrokeshire in 2011.
Beginning her defence, Ms John told the jury her relationship with her mother had been "amazing".
She and Mr Rogers both deny murder at Swansea Crown Court.
Ms John, 50, said she would see her mother at her home in Johnston every weekend and two or three times in the week.
"She only had me - there was nobody else to take her to appointments," she said.
Ms John said she was at her home in St Dogmaels when she received a phone call from her mother's friend who said she was unwell and wanted to see her.
She told the court she went straight there.
Counsel for the defence, Nadine Radford, asked: "It has been suggested you had agreed to help your mother die - what do you say to that?"
Ms John replied: "I would never agree to that. My mother was my life."
She said Ms Guy's ashes were scattered in her garden and she visited them every morning.
Ms John said she realised her mother had died when she woke up in the middle of the night and discovered her mother's bedroom light was still on.
When Mr Rogers, who had travelled from Somerset to see his grandmother, arrived at her home, she told him: "I think you've missed her."
Asked if she had crushed diazepam and zopiclone in whiskey and given it to Ms Guy, she said no.
"She could barely drink a cup of tea... I would not have given her anything like that," she added.
The jury heard Ms John was "devastated" when she was arrested last July.
The court previously heard her home had been secretly bugged by police.
When questioned by Ms Radford, she explained: "Barry said they're probably going to bug the house... if I say something and wink, follow me because this is a joke."
Ms John said she followed her son's instructions "because it was easier to do than make a fuss".
Mr Rogers' defending barrister, Chris Henley asked Ms John: "Did you ever say to Barry 'I don't know why I was arrested... you suffocated her?'"
She replied no, and agreed when he said: "The truth is your mother just died".
The case was adjourned and cross examination is due to begin on Monday.