Plan for Fishguard marina shelved after Stena pulls out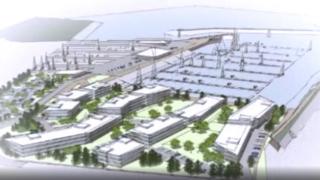 A planned marina development in Pembrokeshire has been shelved after a key player pulled out.
Outline planning permission was granted for a 450-berth marina and 250 apartments in Fishguard in 2012.
But Stena Line, the Fishguard harbour operator, said it had now withdrawn from the project to "focus all resources on our core business".
Investment firm Conygar said this meant it was "unable to progress its proposals".
The marina development was part of a major regeneration plan drawn up for north Pembrokeshire by the Welsh Government in 2003 following the loss of two major employers in the area.
A spokesman for Pembrokeshire council said it was "obviously disappointed".
Niclas Mårtensson, Stena's chief executive, said: "We have had a constructive cooperation with Conygar and we feel that we have given valuable contributions to the project during seven years.
"But after reviewing our operations, and based on the developments we are planning on the Irish Sea, we have taken the decision to withdraw from this marina development project because we need to focus all resources on our core business.
"We are fully committed to a long-term future for our ferry operations from Fishguard to Rosslare which can be demonstrated by our plans for significant investments."
A spokesman for Conygar said Stena had told them it would not support the promotion of the Harbour Revision Order, which is necessary to progress the development.
He added that the company would write off £2m of incurred costs.
Robert Ware, Conygar's chief executive, said: "We are disappointed that after nearly seven years of working in partnership with Stena, they have decided to withdraw their support for the Fishguard Waterfront Development, making it impossible for us to proceed with the plans.
"We firmly believe that the development would have been of significant benefit to the local community and to businesses in and around Fishguard and Goodwick."
Councillor Paul Miller, cabinet member for economic and community development, said council officers had invested a lot of time with both Conygar and Stena in support of their aspirations.
"From my perspective, this is disappointing news both for Fishguard and Goodwick and north Pembrokeshire as a whole," he said.
"It is clear we need to radically rethink our approach to economic development in Pembrokeshire and a short formal review process will commence immediately.
"A summary of the findings of that review will be made public in due course."
Conygar pulled out of a £100m waterfront development in Pembroke Dock last year, saying an increase in the cost of building the marina meant it was "not viable".