Swansea council high-rise flat sprinklers after Grenfell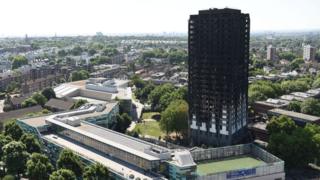 Sprinklers will be installed at council-owned high-rise flats in Swansea to reassure residents about fire safety following the Grenfell Tower blaze.
They will be put in 672 flats and communal areas at its 11 sites, starting at Jeffreys Court in Penlan.
Seventy one people died after a huge fire engulfed the 27-storey Grenfell Tower in West London in June 2017.
Councillor Andrea Lewis said cost was not a factor when it came to safety.
Sprinkler systems are compulsory for all new homes in Wales, but there is no requirement to retrofit older homes.
Ms Lewis, cabinet member for housing, said despite tests showing the cladding used at some of its flats was safe, the council wanted the added reassurance of sprinkler systems, to dampen down any fires before they had a chance to spread.
She said: "Since the Grenfell Tower tragedy in London, we've been doing all we can to reassure tenants in our blocks of high-rise flats about the high standards of fire safety that are in place there.
"This has been a tremendous team effort, where officers in our housing and corporate building teams, working closely alongside the Mid and West Wales Fire Service, have pulled out all the stops to give as much reassurance as possible."
"Where people's safety is concerned, cost isn't a factor," she added.
After work is completed at Jeffreys Court, sprinklers will be installed at blocks in Croft Street, Matthew Street and Griffiths John Street in Dyfatty, Clyne Court in Sketty and Rheidol Court in Clase.
Priority will be given to those with exterior cladding fitted.
Sprinkler heads will be fitted in all rooms except bathrooms and the work will take a day per flat.
The council has already installed sprinklers at its communal sheltered complexes across the city.