Michael Sheen leads tributes to Laugharne restaurateur Nick Priestland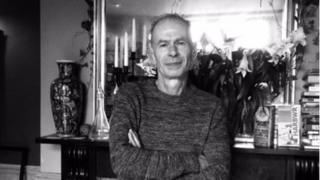 Tributes have been paid to a popular and "unique" restaurateur who was found dead after going missing from his Carmarthenshire home on Monday.
Nick Priestland, 62, had run The Cors restaurant in Laugharne since 1992, and was a talented artist and keen gardener.
Hollywood actor Michael Sheen said: "Nick was an absolute one-off."
Police are not treating his death as suspicious.
Sheen added: "The house of wonders that he created with The Cors was an expression of who he was as a person - full of colour, warmth and character.
"My thoughts are with his family, the Laugharne community that he was such an integral part of and all those who enjoyed and loved him and to whom he gave so much."
Fellow restaurateur, food writer and broadcaster Simon Wright said his "wild, free spirit shone through in all he did".
"Time spent with Nick was always joyous, often uproariously so - he was unique, and, as such, irreplaceable," he said.
Martin Rowson, a satirical cartoonist at the Guardian newspaper, said he enjoyed Mr Priestland's company during the popular Laugharne Weekend, the town's annual literary and arts festival.
"It was a genuine pleasure and privilege, each year for the past five years, to see Nick again during the Laugharne Weekend, and luxuriate (that's absolutely the right word) in his company, cooking, hospitality, garden, gossip and consequently our shared laughter and, thereafter, our collective hangovers," he added.
"Nick was a true artist, in as much as he grabbed whatever canvas came to hand, whether it was a frying pan, a flower bed or a conversation."