£40K cash boost for Pembrokeshire conservation project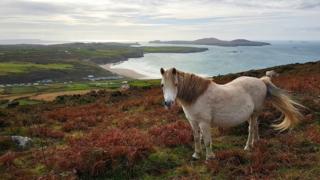 Fifty hectares of coastal habitat in Pembrokeshire will be revived this year in a new conservation project.
The National Trust has received £40,000 from the People's Postcode Lottery to improve the condition of grassland and coastal heath habitats in the north of the county.
The project will focus on reintroducing grazing to several sites.
It is aimed at benefiting a range of wildlife, including chough - a rare bird found on sea cliffs.
The charity's north Pembrokeshire countryside manager Mark Underhill said: "Grazing of the coastal slopes is a traditional farming practice that is critical to create the conditions where wonderful wildflowers like sea thrift, sea campion and kidney vetch thrive, and where chough can feed.
"Without grazing, especially with cattle, coarser grasses and shrubs like blackthorn and gorse dominate and we lose the fantastic displays of coastal flowers."
Work will include installing infrastructure for livestock such as fences, gates and troughs, and organising public events to share progress.
"This means we can continue to have the benefits of the display of wildflowers and rich grasslands which are home to other wildlife like insects and birds that feed on the flowers and seeds," Mr Underhill added.
National Trust owns 60 miles (96km) of the Pembrokeshire coast including 30 farms and 25 cottages.