'Poor' British Steel pensions advice reviewed by police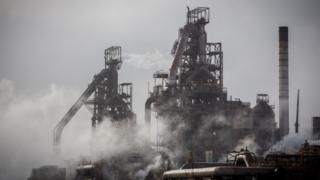 Reports Port Talbot steelworkers have been given poor pensions advice are being looked into by police.
Tata Steel employees have claimed they have been mis-sold advice about moving from the British Steel Pension Scheme after it was removed from the business.
The Financial Conduct Authority is already investigating 17 firms over their handling of the issue.
South Wales Police said it was "reviewing certain information that has been brought to our attention".
Some workers claim they have been advised to move to schemes which would leave them worse off.
Tata worker Richard Bevan claimed he had lost almost £200,000 by transferring out of the British Steel Pension Scheme (BSPS) after seeking advice from a local firm.
In December, he told BBC Wales he was advised to leave the scheme even after he received a letter from the BSPS warning him a revaluation was under way that could mean he had much more in his savings pot than previously thought.
The firm he used, Swansea-based Celtic Wealth Management, said it did not offer advice and acted as a so-called introducer to Midlands-based regulated financial advisor, Active Wealth.
Both companies said they acted properly throughout.
About 130,000 workers and former workers across the UK had to decide what to do with their pensions after the scheme was separated from the business last September.
The deal to split the two was agreed with the pension's regulator because Tata's £15bn British Steel Pension Scheme was seen as a significant barrier to a potential merger with German steel producer ThyssenKrupp.
Options included staying with the current scheme - which will fall into the Pension Protection Fund - moving to a new British Steel Pension Scheme, or transferring to a personal one.
But workers said transferring to a private scheme had "caused concerns", while worries were raised in parliament about the situation proving to be "a honey pot for scammers" as financial advisers targeted workers.
Some firms have already agreed to stop advising Port Talbot steelworkers over pensions after concerns were raised.