Swansea University appoints Dame Jean Thomas as chancellor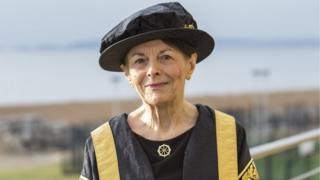 Dame Jean Thomas has been appointed the new chancellor of Swansea University.
She succeeds the former first minister of Wales, Rhodri Morgan, who was chancellor from 2011 until his death in 2017.
Prof Thomas said it was an honour to serve the university she graduated from "many years ago".
She said she was looking forward to being part of the university's "exciting ambition" in the run up to its centenary year in 2020.
Prof Thomas began her role by presenting degree awards to graduates at a ceremony on Monday.