Lammas eco house fire: Family 'still in complete shock'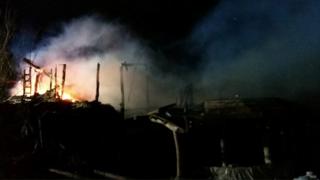 A family who lost their eco home in a fire has spoken of their disbelief after it burned down on New Year's Day.
Simon and Jasmine Dale's house in the Lammas eco village in Glandwr, near Crymach, had featured on the house programme Grand Designs.
The Pembrokeshire couple and two children had lived in the house for six years.
Mrs Dale said: "We are still in complete shock. I can't say how we feel."
She told The Daily Telegraph they had "been here before" as their first home burned down.
"We're trying to hope that this will be a blessing in disguise and we have received so much love, but we know we won't be able to recreate this home."
The family built the house themselves using recycled and reclaimed material, at a total cost of £27,000, over a number of years.
Mr Dale told the newspaper the fire began in a junction box and was a "freak electrical fault" a few minutes after he had left the property.
"I returned to the house and the whole thing was just full of black smoke, there was nothing I could do," he said.
The house was not insured as it was still under construction and Mr Dale said it would cost £500,000 to rebuild it immediately.
Friends and family have set up a donation page to help the Dales, with more than £20,000 pledged so far.