A&E departments in Wales 'like a battlefield'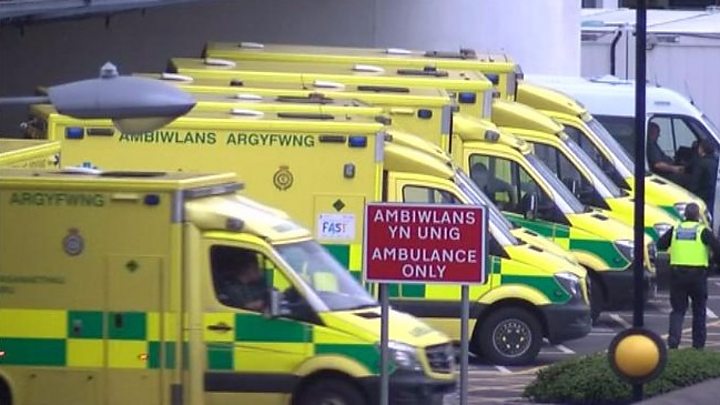 Emergency departments in Welsh hospitals "feel like a battlefield" to staff, according to the Royal College of Emergency Medicine Wales (RCEM).
Welsh Government data showed the number of people visiting A&E rose to 2,752 people a day in November 2017 - up 3.3% on the same month in 2016.
RCEM Wales also said hospitals were "severely stretched".
Welsh Government said flu outbreaks and an increase in calls over the Christmas period had added to winter pressures.
Dr Robin Roop, Vice President of RCEM Wales said: "For staff, an emergency department feels like a battlefield.
"We are fighting to safely treat an increasing number of acutely unwell patients, we are fighting to find enough staff to cover shifts 24/7 and we are fighting to find an available hospital bed for sick patients when there simply aren't enough.
"The fact of the matter is that, despite the best efforts of all NHS staff, patient safety is being compromised daily.
"It is not acceptable that an increasing number of patients are being left on a trolley in a corridor, without satisfactory care.
"This is unsafe, undignified and distressing for patients and their family members."
The Welsh Government said A&E departments were struggling "partly because of an increase in the numbers of patients presenting with flu, norovirus and other respiratory infections who require a hospital bed".
It also said the ambulance service had reported a 50% increase in life-threatening incidents compared with Christmas 2016 and the 111 service had experienced twice the number of expected calls on New Year's Day.
In November 2017, Health Secretary Vaughan Gething said Wales was in the "best position possible" to deal with winter pressures in 2017/18.
But Angela Burns, Welsh Conservative health spokeswoman, said it was "now clear that his claim was unfounded".
Dr Roop said despite welcoming the winter resilience plans put in place by the Welsh Government, hospitals were "severely stretched" and "more hospital beds, more nurses and more doctors" were needed across the entire health and social care system.
More than a million visitors have been to accident and emergency departments in Wales each year for the last two years.
The target of 95% of patients waiting under four hours has not been met in any of the last five years.
Figures for the second week of December 2017 showed 81.7% of patients were being seen within four hours, down from 82.6% the week before and 86.6% in October 2017.
Several health boards across Wales have had to postpone operations because of the winter pressures.
A Welsh Government spokesperson said: "NHS organisations have been planning for the winter period for some months supported by £50m funding from us to help them balance emergency and planned activity.
"Local organisations will have already made plans to limit some pre-planned surgeries in the early part of January as part of this process."
Abertawe Bro Morgannwg University Health Board said it has had to cancel "most" routine planned surgeries.
Cwm Taf University Health Board said it has had to postpone six additional orthopaedic procedures over the Christmas period and the Aneurin Bevan University Health Board said it has cancelled a "small number" of elective operations but all clinically urgent surgery had gone ahead as normal.
Betsi Cadwaladr said it was scheduling more surgical procedures as day cases as part of general winter planning, where patients do no need an overnight stay.
"There have however been some occasions in recent days when cancellations of non-clinically urgent operations have been made," a spokesperson added.
Cardiff and Vale University Health Board said it had "experienced some difficulties with increased presentations of flu and diarrhoea and vomiting".
"As a precaution, we have closed a small number of beds to admission but are expecting some of these beds to reopen later" on Wednesday, it added.
Hywel Dda University Health Board said it was experiencing "significant pressures" across its emergency departments, but had not had to cancel any pre-planned operations.
Meanwhile data from Public Health Wales has suggested that cases of flu have continued to increase.
Statistics for the last week of December showed there were 17.7 consultations regarding flu per 100,000 people, compared with 13.7 consultations the week before Christmas.