Caldey Island: Compensation call for sex abuse victims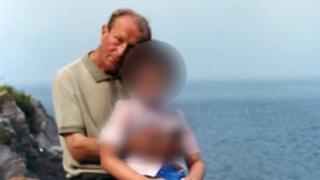 A call has been made for the founding monastery to compensate people who were sexually abused by a monk in Wales.
A devotee of the abbey on Caldey Island said Scourmont Abbey in Chimay, Belgium, had a "moral and ethical duty" to take some responsibility for the offences of Father Thaddeus Kotik.
Teresa Elwes, who regularly visited Caldey Island, off Pembrokeshire, said she was horrified by the allegations.
Scourmont Abbey denied responsibility, saying Caldey was a separate entity.
Father Thaddeus, who lived on the island for 45 years before his death in 1992, is accused of sexually abusing several young girls during the 1970s and 1980s.
Six of his victims were compensated by Caldey Abbey in an out-of-court settlement in March. A number of others have since come forward with allegations.
It is understood the abbot of Scourmont Abbey denied any legal liability in the civil proceedings.
Ms Elwes, a supporter of Caldey Abbey, claimed Scourmont, which brews Chimay - one of Belgium's most popular beers - could afford to compensate victims more adequately.
She said: "When abuse is revealed you have to do your utmost to apologise, take responsibility, provide compensation and do everything you can for the victims.
"If [Scourmont] said 'not our problem' I'd say that's pretty disingenuous… there are very strong links between Caldey and Scourmont.
"Whether they have a legal duty or not, they have a moral and ethical duty to make sure people are properly cared for and compensated… these people's lives have been ruined."
BBC Wales previously reported the former abbot of Caldey, Brother Robert O'Brien, became aware of allegations against Kotik in 1990 but did not refer them to police.
Ms Elwes, a former forensic psychologist who regularly visited Caldey Island from the age of 14 into her 20s, claims Brother Robert, who died in 2009, was appointed by Scourmont.
A book about Caldey Abbey, published in 1996, said the authority for the monastery reverted to Scourmont after the former abbot, Dom James, died.
The book stated the then-abbot of Scourmont, Dom Guerric Baudet, appointed Brother Robert.
But this is disputed by the present abbot, Dom Armand Veilleux, who said Brother Robert was "elected" by the Caldey community.
Scourmont established a monastery on Caldey in 1929 and the earliest monks there were Belgian - some were still members of the Caldey community at the time of the alleged abuse.
Although Caldey Abbey became autonomous from the Belgian abbey in the mid-1930s, Ms Elwes points to books about the island which refer to Scourmont's ongoing financial support for the abbey into the 1970s.
After joining Caldey Abbey, Father Thaddeus spent time at Scourmont as part of his training.
BBC Wales has contacted Dom Armand Veilleux asking him to address these points, but has not received a response.
Ms Elwes, from London, said she met Father Thaddeus on occasions when visiting the island, but was not among his victims.
"I had a wonderful and quite deeply spiritual experience of Caldey, so to think there was a monk doing this is shocking," she added.