Firms stop giving Port Talbot steelworkers pension advice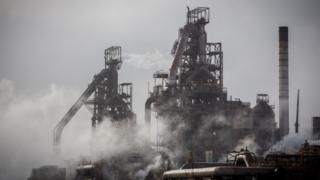 Six firms have agreed to stop advising Port Talbot steelworkers over pensions after concerns were raised.
Regulator the Financial Conduct Authority was investigating 17 companies after Tata employees said they received bad advice about moving from the British Steel Pension Scheme.
One of these was a worker called Paul, whose pot is worth £460,000.
The FCA is continuing to investigate 11 firms active in Port Talbot.
Tata's £15bn British Steel Pension Scheme was seen as a significant barrier to a potential merger with German steel producer ThyssenKrupp.
But the two have agreed to take the first steps towards a deal.
About 130,000 workers and former workers across the UK with British Steel Scheme pensions have until Friday 22 December to make a decision on future arrangements.
Options include, staying with the current scheme - which will fall into the Pension Protection Fund - moving to a new British Steel Pension Scheme, or transferring to a personal one.
But it is believed about 30,000 members have so far failed to respond.
If they do not, they will automatically be placed in a default arrangement, which could leave them worse off.
Pension holders said the option to transfer to a private scheme had "caused concerns", describing a "feeding frenzy" as financial advisers descended on steelworkers.
Six firms agreed to stop advising after talking to the FCA, BBC Radio 4's Money Box programme said.
Port Talbot worker Paul was advised to join a scheme in Ireland - which was not guaranteed, carried a 5% charge to take his cash out and had high charges.
He said: "I was asking questions and they were painting it so rosy like I would be a fool to miss it.
"But in hindsight, perhaps I should have taken a step back and thought about it."
British Steel Pensions are seen as valuable because they are guaranteed for life and have other benefits such as for widows.