Caldey Island sexual abuse independent inquiry call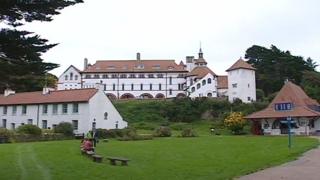 Victims of historical sexual abuse at a monastery on Caldey Island deserve an independent inquiry, a support group has said.
Six women have been paid compensation in an out-of-court settlement following sexual abuse claims in the 1970s and 1980s by a monk at the abbey.
The children's commissioner is to write to the monastery for an assurance that children who visit the island are safe.
The Minister and Clergy Sexual Abuse Survivors group wants an investigation.
"It is human nature to protect those around you," said Jo Kind, the Welsh representative of the group which supports women and men who have been sexually abused by members of the Church.
"In order for that to be open and for all of the facts to be found out, there does need to be an independent inquiry from somebody who is not part of the institution, who can come in with expertise, ask the right questions and find out what happened."
Dyfed-Powys Police has said it investigated the claims by a monk on Caldey Island, a tourist destination where families can visit, in 2014 and 2016.
But they could not prosecute Father Thaddeus Kotik, who lived on the Pembrokeshire island for 45 years, as he died in 1992.
BBC Wales has attempted to contact Caldey Abbey.
Ms Kind also wants a "full and frank apology" from the abbot and called for a change in the law so reporting of sexual abuse "should be mandatory".
"That would make it much easier for people to report because victims wouldn't fear that it would damage their relationship with the institution," said Ms Kind.
"There would have been a lot of people who knew about Father Thaddeus, not just on the island but further up in the Cistercian order.
"The people that have been abused in this way deserve an independent inquiry so the truth of what happened is fully exposed. They need to know who knew what and when."
'Safety procedures'
Children's Commissioner for Wales Sally Holland said there was "not enough information available" to launch an inquiry.
"I have written to the Abbey on Caldey Island for more information on their child protection procedures to make sure that any child or young person visiting Caldey or its churches is safe," she said.
Caldey is a small island in Carmarthen Bay, less than a mile off the Pembrokeshire coast near Tenby, and a Celtic monastery was first established on the island in the sixth century.
The current abbey was built in 1910 by Anglican Benedictine monks and was passed to the Cistercian order in 1929.
Kotik befriended families who regularly visited the island. After gaining the trust of parents he would babysit the children and sexually abuse them, court papers have suggested.
"We are talking about children who were in the safest place they were supposed to be," added Ms Kind.
"They were on a beautiful island and were with members of a Cistercian monastery, who they referred to as fathers and brothers. They should have been safe.
"We are very concerned that many opportunities were missed to report this man to the police and the statutory authorities."