Lifebuoys in River Tawe week before Alexander Pavlou died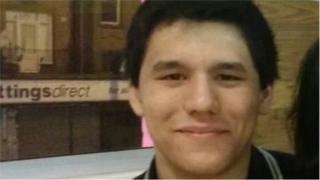 Rescue buoys said to be missing on the night a teenager died in Swansea's River Tawe were in place the week before, an inquest has heard.
Alexander Pavlou's body was found in the water two days after he was turned away from a nightclub in the city in May 2015.
Jamie Rewbridge, from Swansea Council, said it checked lifebuoy provision every four weeks in 2015 and in the week leading up to school holidays.
The inquest continues.
Mr Rewbridge told the hearing that in the week before 19-year-old Mr Pavlou died, two buoys near to where he was spotted in the water were present according to the council's records.
The inquest previously heard evidence from an eye witness who claimed one of the rescue buoys was not in place on the night Mr Pavlou died.
Mr Rewbridge said the council was made aware of its absence on 8 June, more than 10 days after Mr Pavlou's body was found.
He said it came to light following a press inquiry by one of Mr Pavlou's friends, expressing disappointment at the missing rescue buoy.
'Acts of vandalism'
The jury heard that as a result of this the buoy was replaced the next day.
Mr Rewbridge told the inquest the two buoys located near to where Mr Pavlou's body was allegedly seen in the river were in place nine out of 10 times during all the checks carried out in 2015.
Asked about reasons why they would not be in place, Mr Rewbridge said: "Buoys sometimes go missing through acts of vandalism."
He added that the evidence suggested there was "not an alarming level of misuse".
The inquest heard that since a water safety review was carried out in March 2017, the council had decided to carry out checks every two weeks on rescue buoy locations where they tend to go missing more frequently.
The minimum length of time for checks to be carried out remains at four weeks for others.
The jury has previously heard there was "strong evidence" to suggest Mr Pavlou was "very intoxicated" at the time he entered the water.
But his mother told the inquest her son was not much of a drinker and had a heart condition.