Swansea river death: Alexander Pavlou had heart condition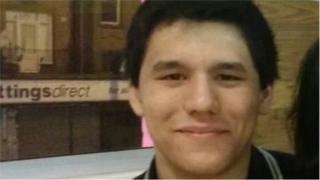 The mother of a 19-year-old found dead after a night out in Swansea had told her son to be "sensible" when drinking, an inquest has heard.
Alexander Pavlou's body was found in the River Tawe, two days after being turned away from a nightclub in the city in May 2015.
Mr Pavlou's mother, Donnie Yuen, said her son was not much of a drinker and had a heart condition.
The inquest has already heard evidence Mr Pavlou was very intoxicated.
He disappeared after being turned away by a nightclub in the city's Wind Street because he was drunk on 27 May 2015.
His mother told the inquest jury her son was an academic achiever who had gone to study medicine at university and that he was also a talented sportsman.
His heart condition meant he needed ECG and ultrasound scan every year.
She could remember two times when her son had been drunk, the second time he had been returned home by a police officer after being reportedly found near Swansea marina without his shirt.
Ms Yuen said she told him he needed to "look after himself" and "be more sensible" in future.
The jury heard she usually offered to pick up her son after a night out but on the night he disappeared she had plans so he told her he would get a taxi home instead.
Ms Yuen said the last time she spoke to Mr Pavlou was at about 20:00 BST, when he called her to ask about a pair of trousers he wanted to wear that night.
She called the police the following day after she realised he had failed to come home.
The inquest continues.