Port Talbot hospital caterers in £25m EuroMillions win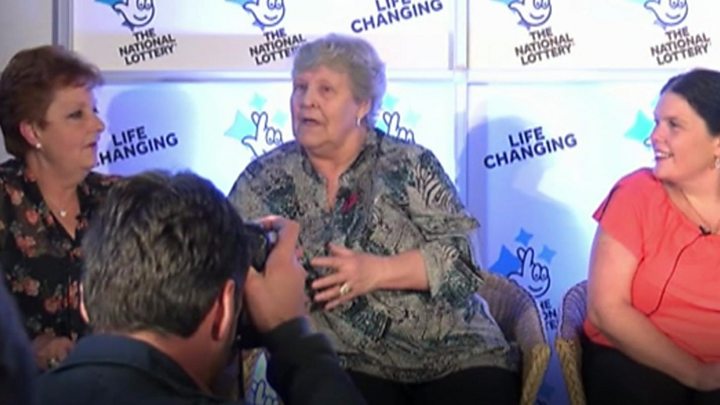 Five catering staff at Neath Port Talbot Hospital have handed in their notice after winning more than £25m on the National Lottery's EuroMillions.
The women each scooped more than £4m with a sixth member of the syndicate already retired.
They have played for the past six years but one member, Louise Ward only joined in October 2016, and it was her numbers that won the jackpot.
She admitted she had almost quit the syndicate.
"I was actually thinking about stopping playing earlier in the year as I have been saving up for my wedding in March and needed the extra cash," she said.
"Imagine if I'd stopped, we'd never have won."
The group won £25,476,778.30 from the draw on 3 November - amounting to more than £4.2m each.
The five colleagues still working at the hospital all decided to retire from work after learning of their win.
Who are the winners?
Julie Saunders, 56, from Port Talbot, catering assistant for 12 years
Doreen Thompson, 56, from Ystalyfera, catering assistant for 12 years
Louise Ward, 37, from Port Talbot, catering assistant for 12 years
Jean Cairns, 73, from Briton Ferry, retired last year after 38 and a half years as a catering supervisor
Sian Jones, 54, from Baglan, catering supervisor for 14 years
Julie Amphlett, 50, from Neath, catering assistant for 32 years
Syndicate leader Julie Saunders, 56, said: "I've enjoyed working there for many years along with the rest of the syndicate, but now it is someone else's turn to take on those roles.
"We will miss many of our colleagues as we have all worked there a long time but it is the start of something new for us all."
The women said their jobs had been "hard but enjoyable", with early shifts starting at 07:00, afternoon shifts and weekend working.
They decided to tell colleagues together and said everyone at the hospital had been "brilliant" about their news.
"Being able to give up work is something we've always talked about - this has just made our dreams come true," added Sian Jones, who worked at the hospital for 14 years.
They have all yet to buy anything with their winnings, apart from takeaways to celebrate.
Doreen Thomson said she had gone to Tesco with her husband for him to buy a pair of jeans and a nice top.
"He picked a pair of jeans up and said 'I'm not paying £35 for a pair of jeans' and he put them back," she laughed.
"My daughter was there and said 'dad, dad, do you know what you are?'
"'I don't care', he said."
The women said being millionaires would not change them but they were looking forward to a trip to Las Vegas.
"We're still trying to digest it," added Mrs Jones.
"It's a vast amount of money. It's going to change my life and my children's lives forever."