Derek Brundrett inquest: Record keeping in 'shocking state'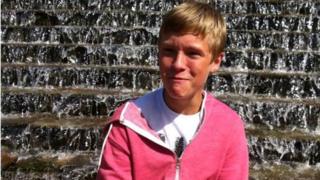 Record keeping by social services was in a "shocking state of affairs" leading up to the death of a 14-year-old boy, an inquest has heard.
Derek Brundrett was found hanged at Pembroke School in December 2013.
The coroner's court in Haverfordwest heard how there were gaps in records between December 2012 and May 2013.
It also heard how Derek's social worker did not consider his case serious enough for a referral to Children and Adolescent Mental Health Services.
On Friday, the inquest heard agency social worker Gerard Szarzy was in charge of Derek's case up to May 2013, before Sarah Schinner took over.
Giving evidence, David McBride, who chaired a Child Protection Conference in June 2013, described a progress report by Ms Schinner as "inadequate".
The court was also told of the numerous failed attempts, including by Derek's GP, to refer him to mental health services.
It heard that Mr Szarzy failed to provide the GP with an assessment of Derek's state of mind which revealed feelings of self-loathing, hopelessness and helplessness.
Mr McBride agreed with Lloyd Williams QC, the barrister representing Derek's mother, Kristina Wray, that it was a "wholly inaccurate referral" based on what they knew.
Also giving evidence, Ms Schinner said she was aware of the referrals, but did not consider them necessary because Derek had not revealed any suicidal thoughts or given her any concern about his mental wellbeing.
"My experience was he seemed happy," she said.
"I don't know if he was covering anything up but I believed him to be happy."
Mr Williams asked her if it was clear from reports by school nurses, educational psychologists and other agencies that he was a "disturbed child with complex needs".
She replied yes.
The inquest heard on Thursday there was a "lack of consistency" in his care.
The inquest continues.