Pembrokeshire council vote for Brexit working group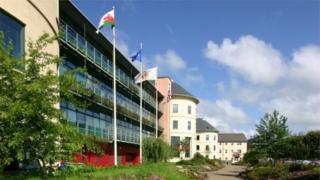 A working group will be set up to prepare Pembrokeshire for the effect of Brexit, following a council vote.
The county could lose £35.4m in trade if the United Kingdom opts for a "hard" Brexit, according to a report by the London School of Economics.
The group will plan for the withdrawal of EU funding and loss of trade.
Council leader David Simpson questioned the need for the committee, saying it could become a "talking shop".
The study, which predicts the loss of gross value added to each local authority, forecasts a total loss of £239.3m from south west Wales in the event of a "hard" Brexit, compared with £135.5m in a "soft" Brexit.
By comparison, the 1996 Sea Empress disaster is reported to have cost the local economy £14.3 million.
Cllr Simpson said: "I do not want this to be a monthly or quarterly meeting which just becomes a talking shop. If the Westminster government are in a quandry about this, what possible difference could we make?"