Derek Brundrett death 'cry for help', inquest hears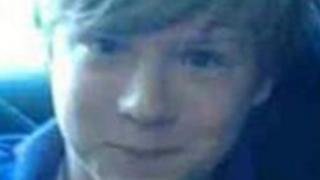 A teenager who was found hanged in the grounds of his secondary school was making a cry for help rather than a suicide bid, an inquest has heard.
Derek Brundrett, 14, was found near the reception area of Pembroke School, Pembrokeshire, on 12 December 2013.
His mother Kristina Wray said she believed he knew he would be found within minutes and had not intended to kill himself.
Haverfordwest Coroner's Court heard he had previously threatened suicide.
Ms Wray told the court her son was found yards from the school's reception and near the location where his friends met to smoke at break time.
'Very aggressive'
On the day of his death, Derek had been removed from his science class and left to "roam the school" for more than an hour, she said. He was discovered at 13:30 GMT.
The court heard how in the year and a half before Derek's death, his behaviour had deteriorated at home and his mother had sought help from the GP as she was concerned about his mental health.
She said: "He was angry and very aggressive and didn't like authority figures.
"He seemed like a happy-go-lucky child but behind closed doors he would react angrily, throwing plates and having temper tantrums."
In the time leading up to his death, Derek had been taken into foster care on two occasions because of his behaviour and removed from school to attend the Pupil Referral Unit.
The court heard how Derek threatened suicide on more than one occasion in this period.
In March 2013, Kristina Wray asked her GP for him to be referred to Children and Adolescent Mental Health Services (CAMHS) but was told Derek's case was not severe enough to warrant specialist care.
Derek's father David Brundrett, who is separated from his mother, told the court he had been concerned about Derek's mental health and alerted social services before his death.
Dr Stephen Leadbeatter, who carried out a post-mortem examination, said there were cuts on Derek's left arm in keeping with self-infliction.
The inquest continues.