Time slot row over Swansea Sound's Welsh language show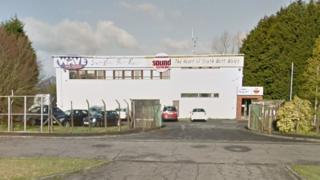 A radio station has been accused of "downgrading" its Welsh language service after a show's slot was moved.
Swansea Sound has launched a 1980s music show at 19:00 each night with its bilingual offering now on air at 22:00.
Welsh language pressure group Cymdeithas yr Iaith Gymraeg criticised the move and is also unhappy the music show will be broadcast in England.
The station's owner Wireless Group said its commitment to Welsh language programmes "remains unchanged".
"Is Swansea Sound a station for Swansea or a region in England?" said Aled Powell, the campaign group's broadcasting spokesman.
'Disappointed'
"Downgrading the Welsh language like this is part of a wider pattern of commercial radio stations broadcasting less and less Welsh and Welsh language content.
"They're less local than ever before."
The group also wants responsibility for broadcasting devolved from the UK government to Wales.
Bethan Jenkins AM, chairwoman of the Welsh assembly's culture, Welsh language and communications committee, said she was "disappointed" by the announcement.
But Terry Underhill, group programme director at Wireless Group, said: "We will continue to produce 12 hours of Welsh programming every week," referring to the station's licence requirements.
"Our research confirms that the 80s is the most popular decade for music in Wales and this listener demand has prompted our change," he added.