Pembroke Dock town clerk resigns after bullying claims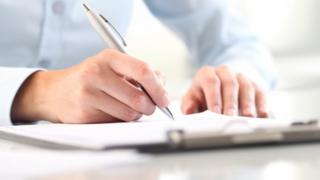 A town clerk who claims she was bullied by a small number of councillors is to leave her post, despite a unanimous vote of confidence passed in her.
Sarah Scourfield said she suffered bullying and harassment from a "small minority" of councillors on Pembroke Dock Town Council.
She said certain members sent her long e-mails "questioning the information she provided" as a clerk.
She plans to leave on 3 November.
Mrs Scourfield, who lives in the Pembrokeshire town, said the majority of councillors "were very supportive" but certain council members "questioned everything she did".
She said her experiences of "harassment and bullying" was "a big part of the reason she was leaving".
Tony Wilcox, a member of the town council, told BBC Wales he thought Mrs Scourfield "was doing a wonderful job" and some councillors engaged in "constant nit-picking".
Mrs Scourfield said she would leave despite the vote of confidence passed in her on Thursday as "she couldn't see the situation being resolved".