Kidwelly hosts national baton twirling championships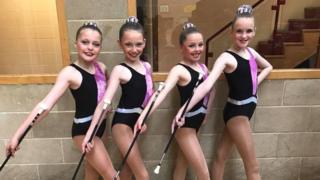 Wales is hosting its first ever national baton twirling championships.
Last year a squad from Carmarthenshire competed under England's National Baton Twirling Association (NBTA).
Their instructor, Jess Shore, said the girls were so successful they decided to create a national body that would allow them to represent Wales.
The Welsh championships are being held at the Gwenllian Centre in Kidwelly on Sunday.
Ms Shore, from Pontyberem, has been twirling for 30 years and started a class in Carmarthen 11 years ago.
The sport is a mixture of gymnastics, dance and the manipulation of a baton.
Ms Shore said the girls were asked if they would like to take part in English trials earlier this year, and while they were grateful, they were also "very patriotic" and wanted to represent Wales.
"We sing and take the Welsh flag with us wherever we go," she added.
A group of parents formed a committee and NBTA Cymru was formed in April.
A small squad will be travelling to Norway in 2018 to represent Wales in the world national championships.