EgyptAir flight MS804: 'Years to find out cause'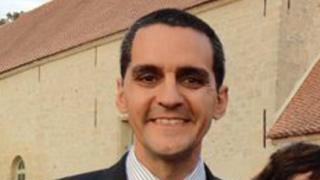 It could take years to find out how a plane crashed killing a Welshman and 65 other people, a coroner has warned.
Richard Osman, 40, who grew up in Carmarthen, was on EygptAir flight MS804 when it vanished in May 2016.
A pre-inquest review in Llanelli heard the Egyptian authorities had decided not to take part in a UK inquest because a criminal inquiry was ongoing.
But Carmarthenshire coroner Mark Layton said he would do "everything in his power" to discover the cause.
The plane was flying from Paris to Cairo, where geologist Mr Osman was due to spend a few days on business, when it plunged into the Mediterranean.
Terrorism has been ruled out and a smartphone or tablet catching fire has been linked to the explosion which downed the plane.
The hearing was told the Egyptian Civil Aviation Investigation Committee has not followed normal procedure by publishing an interim report 12 months after the disaster.
It heard authorities in Egypt may be reluctant to take part in the inquest because they are unaware that coroners cannot apportion blame.
Through a telephone link, the family's solicitor Peter Neenan suggested the coroner could put pressure on EgyptAir's subsidiary company based in London.
He also said answers could come from the BEA, the French equivalent of the Air Investigation Branch.
Mr Layton adjourned the hearing, saying he was pursuing both those avenues.
He said: "I am sure we will be able to do that in due course.
"But it could take months or even years before we can hold a meaningful inquest."
Mr Osman was a pupil at Queen Elizabeth Cambria School in Carmarthen and later studied geology and had a masters from Camborne School of Mines in Cornwall.
He was a mining company executive for Centamin in Jersey, where he was living with his family, and he previously worked in Australia and Egypt.
His family said he was "deliriously happy" at the birth of his daughter Olympe, born less than a month before the crash.
He and his French-born wife Aureilie, 36, also had a 14-month-old daughter together.
Mr Osman's brother Alastair, 36, described the doting dad as "incredibly fit".
Wreckage and lifejackets were found in the sea 230 miles (370km) south of the Greek island of Crete.