Baglan man with breast cancer raising awareness of disease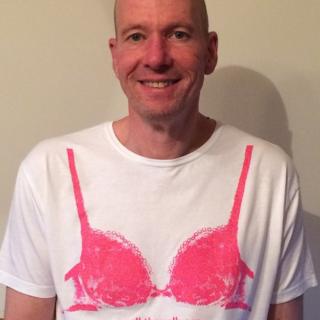 A father-of-three, who was treated for breast cancer, is urging other men to check themselves for symptoms.
Bryan Thorn, 48, from Baglan, Neath Port Talbot, first noticed a lump in his right breast in 2012 while showering but did not receive a cancer diagnosis until the following year.
He is now calling for men to see their GP if they have any concerns.
It comes as a survey by cancer charity Walk the Walk showed 54% of men in the UK have never checked for symptoms.
Customer technical services engineer Mr Thorn first visited his GP five years ago.
"I wasn't checking my breast area. In fact, like many people, I didn't even know men were supposed to check their breast area," he said.
"Saying that, I wasn't naive enough to think men couldn't get breast cancer, but it wasn't something you heard about."
Mr Thorn was referred to a breast cancer clinic but was told it was fatty tissue.
Relief and anger
He said he "carried on as normal" until about 12 months later when he noticed the lump was getting bigger, his nipple had become inverted and it was painful to touch.
Recalling his diagnosis, he said: "It was very surreal and a bit of a whirlwind. I remember my wife was quite angry. She felt something should have been done much sooner.
"I think I just felt relieved at being told the cancer was treatable."
Mr Thorn went on to have a mastectomy and chemotherapy followed by radiotherapy.
He still has annual mammograms, which will continue until he is clear of breast cancer for 10 years, and also needs to take medication until he has been clear of cancer for five years.
"I've not met any other men that have been affected by breast cancer," he said.
"I would encourage all men to check themselves regularly and if they have any concern at all, they should go to see their GP.
"People shouldn't be afraid to visit their GP - there is no such thing as a wasted appointment, it could potentially save their life."