Paedophile David Hart: Judge 'extremely disappointed'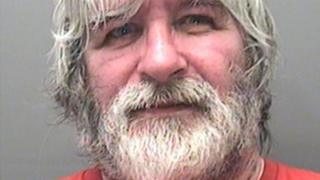 A judge has criticised the police and hospital staff after a paedophile went on the run at the end of his trial.
David Hart, 60, fled on Tuesday, shortly before a jury convicted him of 16 offences against a young girl.
Hart, of Morriston, Swansea, was arrested 24 hours later after failing to show up at Swansea Crown Court.
He admitted himself to Morriston Hospital after feeling ill but a ward sister refused to give police details when they rang on Tuesday lunchtime.
Judge Geraint Walters said: "Whilst I understand the importance of patient confidentiality, I am extremely disappointed by this."
Hart, a taxi driver, failed to appear in court when Judge Walters was due to start summing up the case.
In his absence, he was convicted of 12 charges of rape, two of indecent assault, one of assault by penetration and one of assault occasioning actual bodily harm.
On Thursday, a South Wales Police inspector was invited to court to explain what happened after the judge issued the arrest warrant.
Insp Gareth Hawkins said officers were told by hospital staff that Hart was still there when they rang at 17:05 BST, but he had been discharged and left by 17:30.
He said the officers were not passed this information by the hospital.
Judge Walters added: "I'm not blaming anyone at the hospital because I don't know what they'd say to that, but if that is true, then it's hugely disappointing."
The judge said he had "huge concerns" the defendant could have gone to harm the victim or even himself.
Hart was picked up from hospital by a neighbour and taken to Llanelli before returning home to Morriston where he was arrested.
South Wales Police said the arrest warrant was issued just before 16:30 and the matter was treated as "a top priority".
A spokesman added: "We will be working with our partners regarding the concerns raised by the judge."
Abertawe Bro Morgannwg University Health Board said, while it was unable to comment about individual patients, there was an "agreed protocol between the health board and police".
A spokesman said: "We have checked our records and can confirm that the health board followed this policy."
Hart's victim was just 11 or 12 when he began a campaign of abuse, which lasted for 14 years, and some of the abuse was carried out on camera, with hundreds of other people watching.
She told police: "I blame myself. I never did enough to stop him. I had opportunities to stop him but I was too afraid. I hate myself. I feel disgusted I let him do these things."
Hart will be sentenced on Friday.