Carew Cricket Club relegated after 'unfair' win over title rivals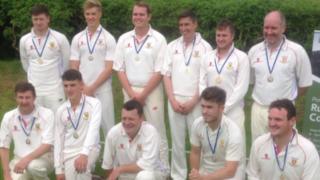 A cricket club at the centre of a fair play row in a Welsh league has been relegated by a disciplinary committee.
Carew declared after scoring just 18 runs for one wicket against title rivals Cresselly in the final match of the Pembrokeshire league season.
The declaration meant their opponents could not win the league as they could not pick up enough bonus points and Carew went on to be crowned champions.
Carew remain champions but will consider an appeal against relegation.
A disciplinary group was set up by Pembroke County Cricket Club (PCCC), which runs the game locally and launched the investigation following complaints.
Carew started the day 21 points clear and with 20 points for a win, declared on 18-1 to deny Cresselly the chance of any batting or bowling bonus points so Carew won the title.
Officials said Carew did not technically break any rules, but the complaints led to the creation of a four-man disciplinary committee which looked into the team's actions.
It decided to relegate Carew to Division Two but allowed them to remain as champions.
The team's captain has also been told he is banned from starting the 2018 season, and the club was also fined £300.
The club's appeal will be heard by the PCCC in the next few weeks.