£1bn Swansea metro plan proposed to 'transform' region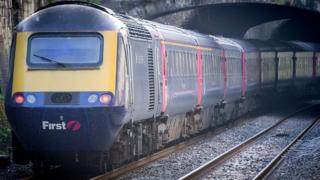 Train journey times between Swansea and Cardiff could fall to 30 minutes if the main line was rerouted, a transport expert has said.
Prof Mark Barry, who proposed the South Wales Metro plan, said a £1bn rail-based metro system around Swansea could transform the city's connectivity and help it support more jobs.
He has suggested routing the main line from Port Talbot straight to Swansea.
A plan to electrify the rail line to Swansea was scrapped in July.
Although his plan would mean taking the main line away from Neath, he said the payoff would be in a metro system with increased services along the current main line from Neath into the city, with new stations serving the SA1 development, the new student campus at Fabian Way and the Liberty Stadium, among others.
In his proposal, the Cardiff University professor in connectivity at the school of geography and planning, calls for a through station to be built at Swansea's main station.
It is currently a terminus, meaning trains have to reverse out, adding to journey times.
He also proposed incorporating the Neath Valley line into a new network, which currently only carries freight trains, and more regional services to Llanelli and Port Talbot.
Prof Barry said the reduced journey time to Cardiff, coupled with electrification of the Cardiff to Paddington line, would see Swansea to London journey times cut to two hours and 15 minutes.
He told BBC Wales: "The business case would be much stronger than just an electrification project.
"We're talking about £1bn, but in my experience if you've got a good project, a good business case, the money's easy to find.
"This project, shrinking the journey times between Swansea bay, Cardiff, Bristol and London, has a huge impact and will drive a much more positive business case [than electrification]."
He said the 300,000 people in the built-up area and 500,000 in the three local authority areas deserved a better transport system.
"Neath, Port Talbot, Swansea and Llanelli will all be closer together in terms of journey times which enables them all to support more employment and become more economically coherent," he added.
He said with the £55bn HS2 scheme for England, most major English cities would be 90 minutes or less from London.
"If you can get [journey times from Swansea] down to two hours 15 minutes or even less, it begins to be part of the same network."
Llanelli AM Lee Waters said: "I think what we all want to see is a public transport system that turns up and goes. People will use buses and trains if they're easy and convenient to use.
"We need a detailed plan to link up the buses and the trains and to improve the services."
He said the Welsh Government was committed to the concept of a metro, adding: "What we need to see now is a detailed feasibility study."
The UK government said it was already committed to improving journeys from London to west Wales, with the new Hitachi trains offering faster journey times and more capacity.
"We are also exploring options for direct services between Pembroke Dock to London via Carmarthen, station improvements at Cardiff station and improvements in and around Swansea, including looking at the case for additional provision," a spokesman added.