Burry Port: Dredging work starts in silted harbour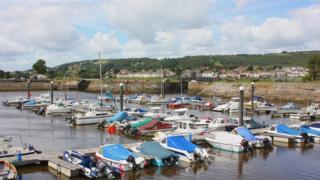 Work to dredge the harbour at Burry Port in Carmarthenshire is beginning as part of a £2m improvement project.
A trial water injection dredging operation aims to move silt into the estuary to increase the harbour's depth and make it accessible to more boats.
The 300-berth marina has a 50% occupancy and the council hopes the dredge will help increase its use.
The work is part of a 10-year plan which will see repairs carried out to the listed status harbour walls.